Friday, 18 September 2009

A crew of about ten men was on the scene at Myers Park yesterday to put in a concrete slab for Lansing's historical 1791 log cabin.  Contractor Al Roy was on hand to supervise workers that included volunteers from McCarthy Builders.  The crew arrived at 6:30am, and by 7:30 they were smoothing the surface.  The 24' x 18' log cabin will be erected beginning next week near the entrance to the park.
Purists have criticized the project because the cabin is not 100% original.  But Lansing Community Council President points out that the original roof has been long gone, and the concrete slab will help protect what is left of the original four walls for a long time to come.  Some of the logs have rotted and will be replaced with replica logs, but the majority of the four walls are original to the 218 year old cabin.




Concrete is poured Thursday morning (left).  Ryan Wiersema smooths the concrete.
The cabin was built by Joseph North in 1791 near the intersection of Searles and Conlon Roads, just three and a half miles north of the new site.  It was constructed on a plot of land used to pay Revolutionary War soldiers for their service.  His grandchildren Joseph E. North, Jr. and Henry H. North moved west to Michigan in 1836.  In December of 1841 Henry met with Roswell Everett, Zalmon S. Holmes to frame a petition to rename their township Lansing, after Joseph and Henry's original home.
The cabin has been disassembled and reassembled three times since it was originally built.  Around 1844 Daniel Tichenor moved the cabin about a mile north on Conlon Road and reassembled it to raise his family in.  In 1958 It was moved to the Cayuga Museum in Auburn.  In 2007 it was disassembled again and brought home to Lansing, where it was been stored until money could be raised to reassemble it again.  Most of the money was raised in June and construction began last week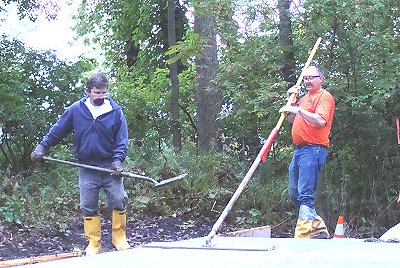 Lansing Community Council President Ed Lavigne (left)
and McCarthy Builders' Pete Peters
Lansing Highway Department workers moved original logs to the building site yesterday in preparation for construction early next week.  The logs were tagged when the cabin was taken apart in Auburn to make reassembly easier, but many of them have faded or become detached in the two years they have been stored here.  Roy and LaVigne sorted the good logs into four piles, one for each wall.
Once the cabin is assembled Boy Scout Martin Keefe will apply the chinking -- the material between the logs that provides protection from the wind inside the cabin.  He will also construct a kiosk for the site that will hold a historical timeline that will explain the history of the cabin to visitors.
Roy estimates that construction of the four walls and a new roof will take about two weeks.